What's new in the business world. and what's making the local headlines right now? We've got Knowledge for you here on a wide range of topics here, from pensions and payment systems to equality, inclusion, social media, supply chains, the quest for Net Zero . . . and much, much more.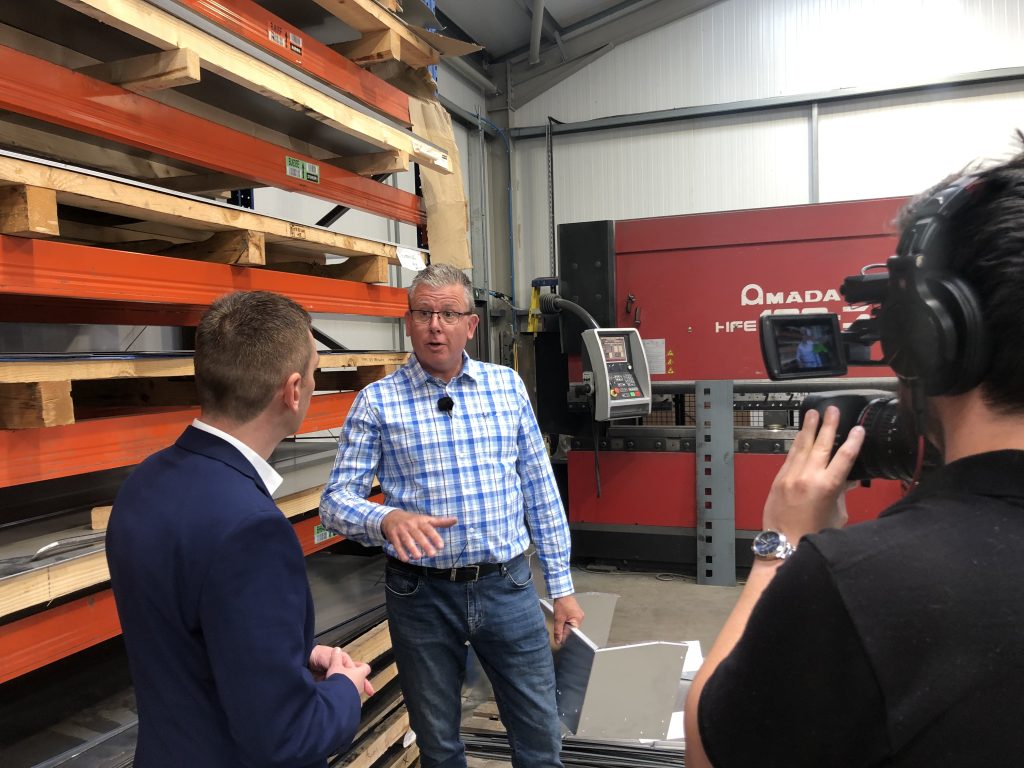 How hyper-localisation can help the engineering sector
Mal Evans, co-founder of Ollerton-based fabrication company Ferro, discusses challenges facing the UK steel industry and its supply chains
Keeping the 'Shropshire Pound' in the county
Could you be doing business with a neighbour? Richard Sheehan of Shropshire Chamber discusses the benefits it could bring
FSB boss on fact-finding visit to the county
Martin McTague, chair of the Federation of Small Businesses, talks about challenges and opportunities during a visit to Telford
Why movie makers could be bringing us a big boost
Carl Jones talks to Mark Hooper from Film Shropshire, a new bureau promoting the county to film and TV production companies
Is your company's website fit for purpose?
Shaun Carvill, from Clickingmad in Bridgnorth, offers up some top tips for making sure your website is efficient and user-friendly
Will SMEs ever fully recover from Covid crisis?
Covid infections are on the rise again in Shropshire - do businesses need to resign themselves to the fact it's not going away?
Shevaun Haviland – director general of the BCC
Shevaun spoke to us during her visit to a conference in Telford, sharing her thoughts on what the future holds for the economy
Manufacturing: Exporting in a post-Brexit world
James Stansfield, the chief executive of Filtermist in Telford, gives an insight into running a fast-growing manufacturing operation
Why is inflation so high, and how can we get it down?
Shropshire-raised Glynn Jones, deputy agent for the Bank of England in our region, sets out some of the current challenges
The changing face of the high street
Praveen Chaudhari of Lanyon Bowdler talks about some of the latest developments in the commercial property sector
Inflation, interest rates . . and other economic forecasts
We caught up with Handelsbanken chief economist James Sproule during a visit to the county to discover his thoughts
How to make networking work for you
Networking really does work - Shropshire Chamber of Commerce CEO Richard Sheehan explains why it's a tried and tested formula
Walter Gleeson: co-founder of musicMagpie
The co-founder of musicMagpie, Walter Gleeson, talks about his quest to help support a new generation of entrepreneurs
Is it time to go electric?
Hayley J, Local Business Specialist at Furrows, explains how purchasing an electric car for your business is a worthwhile investment.
Challenges for the local economy
Richard Sheehan, chief executive of Shropshire Chamber of Commerce, talks about the challenges local businesses are facing.
The changing face of the office
Richard Hughes of office supplies company Chrisbeon looks at the equipment you need for a home office in a post-pandemic world
Are universities failing graduates, and the economy?
Former Dragon's Den investor James Caan considers whether higher education is providing us with a reliable workforce
Embracing apprenticeships
Gareth Jones, managing director of In-Comm Training, says you can be anything you want to be, through the apprenticeship route
Skills challenges in manufacturing
Christopher Greenough of SDE Technology in Shrewsbury discusses some of the most pressing skills challenges in engineering
The managing director of Salop Leisure, Mark Bebb, discusses the importance of putting something back into the local community
Parveen Begum, chief executive of Solisco, explains how embracing electricity can accelerate a company's journey towards Net Zero
Mike Barry, University of Cambridge, talks Net Zero and the need for Shropshire businesses to become advocates for change
Anxiety around supply chains
Rachel Laver, chief executive of the Marches Local Enterprise Partnership, discusses one of the biggest modern-day challenges for businesses
Staff Challenges following Covid
Dave Courteen from The Shrewsbury Club talks about some of the challenges of finding staff following the Covid pandemic
Why we're the same – but different
Telford business owner and FSB regional chair Hollie Whittles looks at differences between Shropshire and other West Midlands economies
If your company had £10,000 to spend…
How would you spend the money if someone presented you with a pot of marketing cash? Steve Baxter offers up some suggestions
Skills shortages in construction
Steve Owen, managing director of Knockin-based PaveAways, discusses challenges recruiting into the construction industry
You're never too good for coaching
No matter who you are, no matter how skilled you are, there's always scope to get even better at what you do, says Steve Baxter.
The power of visualisation
People struggle to imagine themselves decades into the future - but financial planning can make a big difference to quality of life
The hidden impact of the Covid pandemic
It's OK to say you're not OK – and in a typical workplace, that's certainly not always felt like it's the case. But things are changing
Stock market outlook – caution is the key
Risks that have the potential to derail this recovery of the economy remain with some increasing in significance, says EFG Harris Allday
Should we worry about our credit score?
When it comes to finances, numbers are key, yet there's one number you shouldn't pay too much attention to – your credit score
Last chance saloon for the planet?
The clock is ticking, but solutions to some of the most pressing issues are close to hand, says Mark Thompson of AceOn Group in Telford
Inclusion: Are we acting, or just saying the right things?
Award-winning businesswoman and author Teresa Boughey says this is the perfect time for action, rather than just the right words
Export funding cash available
The Institute of Export & International Trade has made over £1 million of funding available to help companies boost overseas trade
Autonomous vehicles – the future is here
Experts from a Shropshire university have been playing a pivotal role in game-changing technology which will reshape the transport industry
What's next for the Shropshire economy?
Businesses came together for a seminar at Shrewsbury Town FC to discuss the strategic plans for the county over the next few years
Why we all need a tech time out
It's far too easy to spend every waking hour glued to technology - but taking a break can bring clarity of thought, and mood
Distribution of wealth – are we getting our fair share?
When it comes to financial health, it seems the Government's much-vaunted 'levelling up' campaign still has a lot of work do to.
A new type of pension pot
A new type of pension scheme promising reliable returns – and potentially boosting retirement incomes for workers – is on its way
Is the four-day week really on its way?
Several big-name companies have already shifted to long weekends on the same pay, with many others consulting on similar changes
Are we moving into the era of the freelancer?
There are pros and cons of working for yourself - but if you get it right, going freelance can significantly boost your earning potential, and lifesty...
Is your social media policy up to date?
Like it or loathe it, social media can be an incredibly powerful communication tool, helping to collaborate, share ideas and solve problems
Staff shortages: Could the new immigration points system offer a solution?
When it comes to staff shortages, could the new immigration points system offer a solution for businesses struggling to recruit?
What a Queen's Award can do for your business
Shropshire has a proud record of success in the Queen's Awards - find out what the scheme can do to boost your business
Late payments: The biggest cause of business failure?
All they want to do is get paid for the work that they've done, but that's proving easier said than done right now for small businesses
Equality and inclusion strategies
Now is a prime opportunity for organisations to restructure with inclusive foundations, rather than bolt-on policies, says Teresa Boughey